Marvel's Cloak & Dagger has just wrapped its second season, and with it came a very strong hint that it could crossover with another Marvel series.
Warning: contains spoilers from the season 2 finale of Marvel's Cloak & Dagger.
The latest episode ended with Tyrone and Tandy leaving New Orleans on a bus, their destination unclear. Tyrone then points to a newspaper and asks whether that was the place they were heading to, and Tandy explains that where they were going had dead girls wash up on the beach.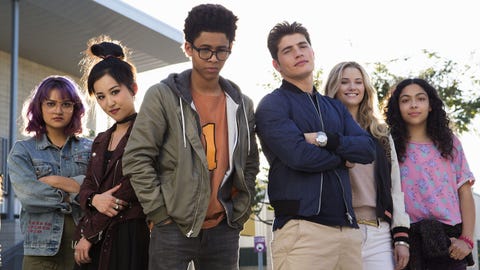 That sounds awfully familiar, as Runaways season one saw the Pride sacrifice a young woman, her body later washing up on a beach in Los Angeles.
Nothing has been confirmed yet as to whether the pair are heading to LA to meet the Runaways, and Cloak & Dagger showrunner Joe Pokaski remained coy when asked about the prospect. "There is enough information on the screen that you can make some of your own inferences, is probably all I can say."
Ever since Cloak & Dagger was launched on Freeform last year, most Marvel fans have been certain that the series would eventually crossover with Marvel's Runaways on Hulu. Both shows are about teenage heroes and they both deal with more real-world issues. To take things even further, the producers behind both shows have always been optimistic about the prospect and Tandy and Tyrone crossing paths with the Runaways at some point.
It wouldn't be the least bit shocking if we see Tandy and Tyrone on Runaways when the third season eventually arrives.
Source: DigitalSpy, ComicBook
Swamp Thing Final Trailer Before Release Friday(Opens in a new browser tab)